Weather, what to expect?
We really needed a holiday so we decided to risk it and go to Koh Phangan in June. It is not really the best time to go to the islands but since we got soaked during our last visit, in January 2007, we thought it couldn't be worse anyhow. And guess what? It wasn't! The weather was much better actually. During our first few days on the island we saw quite some clouds, but afterwards we experienced loads of sunshine for most of our days.
Prior to booking our flights we had checked the weather forecasts for June and it seemed that June was actually the best out-of-season month. There is a dip in rainfall in between 2 monsoons according to Lonely Planet's When to Go pages. Another useful source of information is the Thai Meteorological Department web site, but don't be fooled by the icons published on the weather forecast web sites. The most reliable sources are actually the locals and expats. We checked Camille's Samui Weather blog quite often and got in contact with Scottish expat Ray, living and working on Koh Phangan, and Steve who runs the, initially in French, Phangan Guide web site. They all said June should be fine ... and it was :-)

PLACES TO STAY:
It wasn't exactly our first time on the island, so we decided to stay in Haad Rin for just a few days only. We have both outgrown the FMP scene, so we needed to select a second Place to Stay on the island. In order to choose the next location/beach where we could stay I asked for some feedback on TripAdvisor and Twitter. Steve and Ray came back with some suggestions and it seemed that their suggestions "overlapped" greatly and that the North-West of the island would offer what we were looking for.

North West:
Steve really knows the island and his suggestions were really excellent. We ended up with the following shortlist:
Sunset Cove and Blue Ocean Garden on Ao Chao Phao beach and Cookies Salad Resort and Salad Hut on Haad Salad beach, they all looked great! We ended up chosing for Sunset Cove because Salad Hut was fully booked, Blue Ocean Garden didn't have a pool and Cookies Salad Resort was unfortunately suffering from noise from a nearby construction site (new resort).
We didn't regret our choice at all! Sunset Cove was just amazing! When we initially booked we were told the front row bungalows were all fully booked, but when we got there we were fortunate to be able to upgrade to a front row bungalow due to a cancellation.



It is really difficult to explain what makes Sunset Cove such a great place. There is just something about the atmosphere at Sunset Cove. The staff is very friendly, smiley and super efficient but in a very chilled way. Management makes itself unnoticeable but is constantly there to accommodate its guests. You take a plunge in the pool at night and the lights in the pool will go on without anybody saying anything. You are strawling on the front deck at night and again the lights will go on (no IR sensors, just people caring).



When coconuts need chopping down because of the obvious risk they pose, the coconuts are being sliced open and offered to the guests as a free drink/snack ... just a nice attention.



I lost my sunglasses while staying at Sunset Cove and I asked if I could put up a note at the reception area. I just scribbled something on a piece of paper and 5 minutes later when I went back to reception they had printed an A4 sheet and had placed it in a very visible spot. I thought they were going to show my own note, but no ... they exceeded my expectations, again!



Also, when you order a drink, staff will bring it to your bungalow, the pool, etc without needing to ask for your room number. Nobody ever asked for our room number when we had a drink or food, but all the bills were 100% correct at the end of our stay. We were a little worried about this at first, so we took some notes just to make sure. We shouldn't have it seems, because everything was billed correctly.
The bungalows looked good and were actually very functional. I especially appreciated the bathroom that could be cooled down by leaving the door to the room open (with aircon on). The shower was outdoors, which is great, but having the rest of the bathroom inside actually makes it more comfortable. Also the extra little frontroom at the entrance of the bungalow is separate from the bedroom and contains a fridge, TV and DVD player and is cooled down by a fan. This setup works really well actually. The deco of the bungalows is not the most trendy or modern you will have ever seen, but this should not be an issue at all.
The pool at Sunset Cove is the socialising hotspot and the infinity-setup of it works really well.



Food and drinks at Sunset Cove are good but if you fancy a change of scenery one evening, you can just walk to Blue Ocean Garden's La Dolce Vita restaurant for some Mediterranean fusion food.
Another added advantage of staying at Sunset Cove is that Ao Chao Phao beach is easily accessible from Thong Sala and you can get around pretty easily on a scooter. Once you go more up North, the roads become really tricky. There is a lot of construction and road works going on which makes some beaches more difficult to access.
Sunset Cove is nr 1 on TripAdvisor, and it is well deserved.



While staying at Sunset Cove we went to check out the nearby beaches and other places we considered staying at some point. This is when we realised that Ao Chao Phao beach is actually very accessible and a good "basecamp" if you want to explore other parts of the island.
One evening a group of us went to Haad Salad beach for some drinks at Cookies Resort and food at Salad Hut. Cookies Resort is a nice place, with great owners, but unfortunately the nearby construction of a big resort is causing some daytime noise hinderance. Not what you want on your relaxing holiday! Currently Cookies is not easily accessible, even on a scooter it can be quite tricky but this might change once the road works and nearby resort are finalised. Give it another 6 months and make sure to check the TripAdvisor forums or Phangan Guide. Once these issues are resolved Cookies will be a great Place to Stay. And it currently is a great place anyway for some evening drinks or food with a panoramic view of the beach. Cocktails are really good!
Salad Hut looked really nice, but it had a more family with kids kind of feel to it when we saw it daytime. So it might be less appropriate for a romantic getaway, but this could just be a biased view based on a one-off. The food at Salad Hut really did live up to the expectations and its reputation ... it was great!
Mandalai on Chaloklum Bay is a weird one. Amidst a fishing village you have this trendy looking hotel and bar, but it just doesn't seem to make sense. Go and check it out for a "feature", but be aware that it is smaller than it looks on their web site and you don't exactly get idyllic surroundings with it.




Haad Rin:
We stayed in Haad Rin a few times in the past and I must say I really like Sarikantang. In my eyes this is the best place to stay when you want to be near the "action" but at the same time be able to escape the madness. Sarikantang itself offers really nice accommodation and has a fantastic Spa (hoovering above the beach). Last time we stayed at Sarikantang, we were not impressed by the food but this issue had now been solved. The staff is very friendly, smiley and efficient but unfortunately the expansion of Sarikantang and the need for more staff and procedures has also caused it to lose a bit of its family-ran business feel. It now feels like a well-oiled machine, but that also means it loses the human touch element a little. E.g. you need to pay a deposit (not physically but billed to your room) for your key, you need to pay a deposit for every DVD you borrow, restaurant staff is being motivated by an "employee of the month" bonus, ...
Don't get me wrong these are minor issues and I would certainly go back, because I still believe this is the best place when staying in Haad Rin. Also, Sarikantang organises a free transfer from the ferry on arrival.
Make sure to ask for the masterplan map (a jpeg floorplan of the resort, the URL has moved unfortunately so I can't link to it) before booking accommodation. Previously we stayed in Deluxe First Row bungalows (numbers 24 or 26 are the best options).



This time we opted for a more recent bungalow of the Seaview Deluxe type (nr 59) which had nice deco but the indoor bathroom still wasn't indoor enough to just leave the sliding doors open in order to cool it down with the bedroom aircon. This bungalow was ok, but we still prefered the bungalow type we stayed in previously.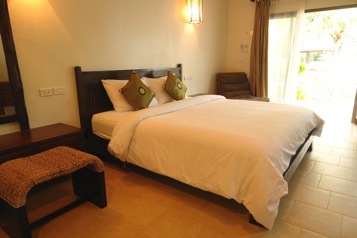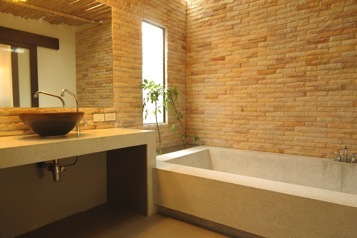 PLACES TO EAT & DRINK:

North West:
Well I mentioned them already, but here you go again: Sunset Cove's restaurant, La Dolce Vita at Blue Ocean Garden, Salad Hut's restaurant and Cookies Salad's restaurant.

Haad Rin:
I'll keep this one really short: Emotion of Sushi! You don't expect fine dining or trendy eateries in Haad Rin, but this place manages to offer something different in Haad Rin. Upstairs is where you have sushi in a nice chilled Zen environment and downstairs you have a lounge bar that serves really good cocktails. It seems this place has now been consistently serving great sushi for almost 4 years and the expat lady who owns and manages it does a great job.
You find Emotions of Sushi near Haad Rin beach, on what is called Seagarden Road (one of the side streets of the main street that runs parallel with the beach).


REMARKS & TIPS:
> Koh Phangan is definitely going up-market. It now is more difficult to book the most expensive rooms at resorts, they seem to go first.
> In general, the web sites of hotels and resorts have drastically improved in just 18 months. Most hotels and resorts now have really slick looking web sites that load much faster than they used to.
> Social media are really efficient when planning holidays, because, er ... their social ;-) TripAdvisor is a great tool and when I posted a question on Twitter, I got some really interesting feedback from Ray Nimmo who actually has his own IT/Web Design company in Thong Sala and who currently is developping Phangan Google Map.
> Make sure to also check out Phanganguide.com, because the amount of information is amazing and Steve has a good reputation for taking care of his customers.
> Scooters ... hmmm, be careful! Ray had warned me about this, but on our night out from Ao Chao Phao to Haad Salad we decided to take our scooter anyhow. On the way back, just oustide of Haad Salad, we got chased by stray dogs and needed to swirve in order to avoid road works. We managed to avoid both the dogs and the road works, but when we finally got back to Sunset Cove we said "never again!". A scooter might be ok for bopping about daytime and for short distances, but at night when its pitch black just get a taxi!

For more information and Tips for Starters for Thailand, please visit my previous posts.